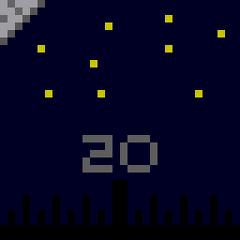 Devlog #27
By Timeline Games on June 3, 2018, 7:28 pm.
Hi everyone,
I actually got a lot done this week, like I fixed up some overlapping in sprites some levels.
I also redesigned some of the menus, including Title, Controls, and Extras. I also started working on the Unlockables Menu, which will include the Slime Codex that I talk about last week, on top of also Hard Mode and a Boss Rush Mode.
I also took some of the early sprites, like the Level 1 / Level 2 background and the checkpoints. If you don't know, in the early days of development I used a different program to make the sprites ( one that was specified for a completely different program ) than I use now. They came out in low quality and were blurry. I am now starting to fix up these sprites using the program I use now, and to put them into the game.
Also, because of GDU's closure that is going to be sometime soon, i am going to leave a link to the main page where I also post these Devlogs if you are interested in these,
https://gamejolt.com/games/Slime_Wars_Alpha/209402
See you all next week,
Buttercreeper6